Subscription to The Medical Letter On Drugs and Therapeutics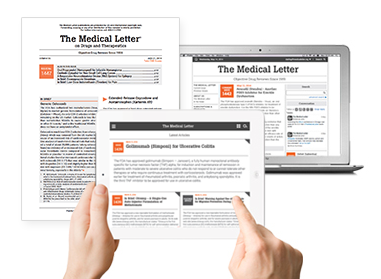 The Medical Letter
is a biweekly publication that provides:
Evidence-based, peer-reviewed evaluations of new FDA-approved drugs with conclusions reached by a consensus of experts
New information on previously approved drugs including pivotal clinical trials, new indications, and safety warnings
Consensus recommendations for the preferred and alternative treatments for common disorders
Comparative reviews of all of the drugs for a given indication with particular attention to clinical efficacy, adverse effects, drug interactions, and cost
An occasional review of a new non-drug treatment or a new diagnostic aid
Up to 52 CME credits per year – online or on your mobile device, including ABIM MOC points
Reader Testimonials
I do not know what I would do without it
The Medical Letter is one of my favorite medical information sources that I have used now for 47 years. I look forward to receiving my copy every 2 weeks. A professor in pharmacy school introduced me this great periodical and suggested I should get a subscription. I followed...
More
Submitted by R. Lenz
I only trust Medical Letter when it comes to drug information
1. You are not sponsored by big pharma so you provide unbiased dependable and accurate information.
2. You provide research data and the format is so conducive to providing reliable trusted information to patients.
3. I am able to obtain excellent reliable...
More
Submitted by M. Meyer
Continuing Medical Education

CME is available to both subscribers and non-subscribers. Subscribers to
The Medical Letter
can earn up to 52 credits per year for FREE (online, per-issue), or can choose to purchase our semi-annual Comprehensive Exams (online or print). Non-subscribers can purchase individual exams.
Individual Exams - Online
Comprehensive Exams - Online or Print
Price: $79.50/exam or $74.50 with AutoRenew
26 credits/exam